Yesterday I had the pleasure to meet Tania from Percy Handmade, and I have to admit that as soon as I saw how detailed, romantic and whimsical her work is, I had to feature her business so you all can see what I'm talking about.
She also loves to offer "brides to be" a 10% discount on all purchases using the coupon code BB10 at her Percy Handmade store.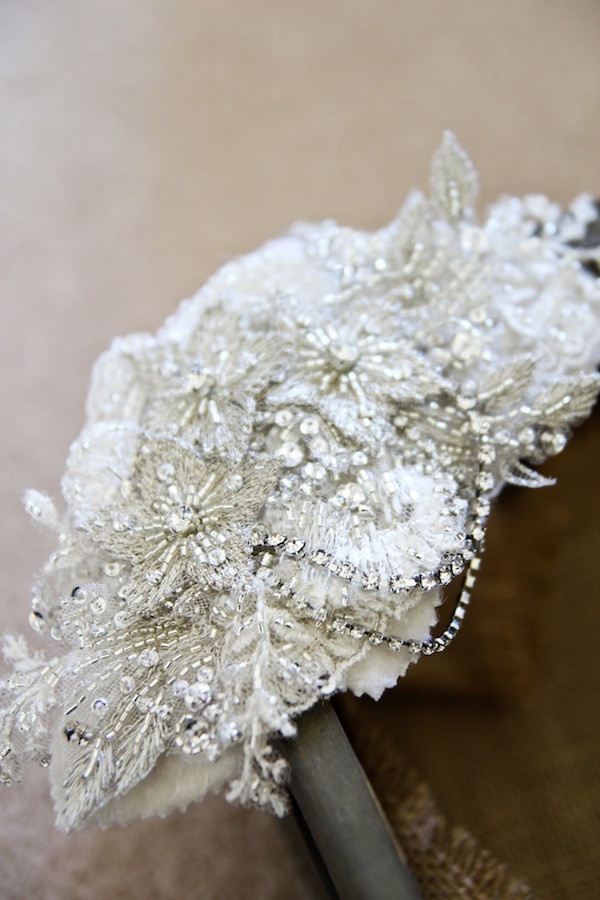 Hi! I'm Tania, the designer behind Percy Handmade. If there is something you should know about me, I am slightly obsessed with fabrics, flowers and accessories.  I'm Australian-based, I love to sew, I have a 2-year old chocolate Labrador named Bear and I absolutely love what I do.
I believe that passion creates beauty, that the finer details are just as important as the big picture, and accessories are beautiful way to capture the individual style of each woman.
I design and create original bridal accessories that are affordable, exclusive, and made from high quality materials in my studio. Everything is made from scratch. Every stitch, every petal.  I also offer a bespoke service to my customers to allow them to venture beyond the current collection to create something that reflects their individuality and unique style.
I can't resist lace, silk fabrics, vintage findings, rhinestones, pearls and crystal beads.  I find inspiration in photography, fashion, décor, nature, celebrations such as weddings, and everyday life.
Although I'm based in Australia, the beauty of selling online is that I am able to work with the most amazing women worldwide and I have formed friendships in the most unlikely of places.
I love traveling and I often find myself setting aside time in every trip for a dedicated fabric hunt. My wonderful husband usually picks these days to go to a sports game – so it's a win-win situation! I love to use these materials and findings in each piece I create so everything I produce has a little bit of me and what I love sewn into them.
Facebook – www.facebook.com/percyhandmade
Twitter – https://twitter.com/percyhandmade
Blog – www.percyhandmade.com/blog
Pinterest – http://pinterest.com/percyhandmade/